AAUW advances equity for women and girls through
research, education, and advocacy
SAVE THE DATE
2023 AAUW-IL 98th State Convention
Friday – Saturday, May 5 – 6, 2023
Embassy Suites by Hilton East Peoria Riverfront Hotel & Conference Center,
East Peoria, IL
---


Fall Conference – Sat, Sept 24, 2022
"While we are non-partisan, we can be political. To that end, we need to protect our voting rights and privileges, do our due diligence about our candidates and vote to support candidates who support the rights of women and girls."
Read the full transcript of  AAUW-IL President Donna Jean Simon's opening remarks from the 2022 Fall Conference.
---
For the most up-to-date AAUW-Illinois news, read the latest Connection:
Read latest Connection
Check out the Connection Archives
---
From Gloria L. Blackwell, AAUW Chief Executive Officer:
AAUW Statement Strongly Condemning the U.S. Supreme Court's Opinion on Dobbs v. Jackson Women's Health Organization:
The American Association of University Women (AAUW) strongly condemns the U.S. Supreme Court's decision in Dobbs v. Jackson Women's Health Organization. The decision overturns the landmark Roe v. Wade ruling that established abortion as a constitutionally protected right nearly 50 years ago and ignores the will of the American people, 80% of whom support legal abortion.  Read full statement
---
State Convention Recap – May 2022

---
AAUW Office Hours
National AAUW offers weekly virtual Office Hours sessions every Thursday at 2:30pm CT for member leader inquiries. Sign up to join our next session!
Register for Office Hours
---
Read the Spring Link newsletter – the State Convention Edition:
Spring LINK
---
View the updated AAUW-Illinois Bylaws – 2022
---
AAUW 2021 By the Numbers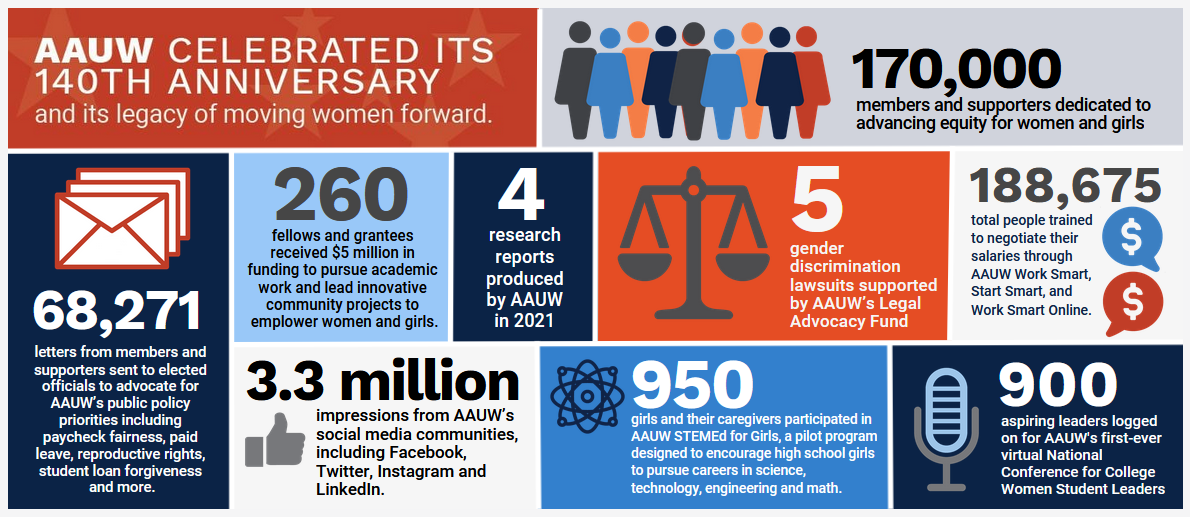 (click on graphic to enlarge)
---
Fall 2021 Conference Recap
We held a state-wide fall conference virtually in October 2021.
View helpful handouts from the conference.
---
Read the Fall 2021 edition of the AAUW-IL Link newsletter:
Fall LINK
---
The 2022-23 AAUW Illinois State Board:
President: Donna Jean Simon –  Wheaton-Glen Ellyn
Co-Vice Presidents – Programs: Becky Glimco – Naperville  & Peg Gallagher – Schaumburg
Co-Vice Presidents – Membership: Nann Blaine Hilyard -Waukegan  &
Amy Green – Springfield
Director of Finance: Carolyn Schjelderup -Rock Island-Moline
Secretary:   Paige Hadsall
AAUW Funds Director: Laura Desmarais – Wheaton-Glen Ellyn
Director – Bylaws and Policy: Andi Danis – Aurora
Nominating Committee Chair: Carol Heisler
Social Media Manager – Kate Skegg – Jane Addams
Website Manager – Leslie Sulla – Wheaton–Glen Ellyn
---

EQUAL MEANS EQUAL is a film that gives an unflinching look at how women are treated in the United States today. The Gender Equity Fund will provide a DVD or a theater-ready version of this movie with the completion of a reservation form and the receipt of a modest fee.  Please complete the form and mail to Carol Heisler. Download the agreement form.
---
 LEG-Up Grants
LEG-Up grants help branches run Local Engagement mission-based projects. Read more about the LEG-Up and other grants offered by AAUW-IL.
---
  Who We Are
AAUW (American Association of University Women), the oldest women's organization in the United States, was founded in 1881, and advances gender equity for women and girls through research, education, and advocacy.
Read more about AAUW at www.aauw.org
Read more about AAUW's research
Membership Criteria
Any graduate with an associate or equivalent degree or higher may become a member of AAUW. More AAUW-Illinois membership information.
In principle and practice, AAUW values and seeks a diverse membership. There shall be no barriers to full participation in this organization on the basis of gender, race, creed, age, sexual orientation, national origin, disability, or class.