Since 1984, AAUW-IL has presented the Agent of Change Award annually to recognize an exceptional branch member or AAUW member who has served as a catalyst to bring about positive societal change.
Congratulations to the 2023 Agent of Change –
Marlene Daubert (Elgin Area)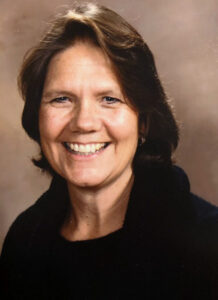 AAUW-IL is pleased to recognize Marlene Daubert as the recipient of the 2023 Agent of Change Award for leading AAUW Elgin Area to produce innovative, effective activities which brought growth and movement to the Branch, and social and educational empowerment to women and girls in the community.
Marlene's accomplishments demonstrate her role as an agent of social change both inside and outside her Branch. Specifically:
As co-president of AAUW Elgin Area from 2019 to 2022, Marlene demonstrated exceptional organizational development, leadership and critical thinking skills to enable the Branch to achieve clear results and growth despite a pandemic environment.
Marlene pressed to expand Branch scholarships to create access for women who might not get advanced education without assistance. The Branch now designates at least half of all local scholarships for women of color.
Marlene championed new sources of funding. For example, the Branch created a popular series of online Cooking Classes with fees going to scholarships. Her own birthday celebration became a fundraiser: Branch members invited a nationwide group of friends, special colleagues and AAUW associates who celebrated the day and gave money to scholarships.
Under Marlene's leadership the Branch produced a virtual 100th anniversary event using new technological approaches, including online interviews, testimonials and pieces from many women in the Branch. The event raised AAUW visibility by featuring national AAUW Board Chair Julia Brown and airing to an internal and external audience.
Marlene increased Branch partnerships with other community organizations, including the Gail Borden Library and the League of Women Voters.
Marlene challenged AAUW Elgin Area to be intentional about fulfilling AAUW Five Star criteria with the result that the Branch achieved 4-Star status.
Finally, Marlene examined the Branch's leadership program and defined processes to recruit and support leaders in order to better encourage, equip and support the organization in the future.
Agent of Change Award Committee:  Sue Topp (chair), Jennifer Urish, Nann Hilyard, Andi Danis, Carol Heisler
To be presented May 6, 2023