The 2018 Agent of Change – Sheryl Hall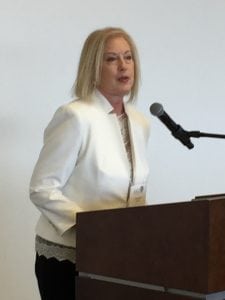 Sheryl accepting the 2018 Agent of Change award at the AAUW-Illinois convention.
We at AAUW-IL, are proud to announce that Sheryl Hall is the recipient of the 2018 Agent of Change Award. Sheryl Hall is a member of the Rockford Area AAUW Branch where she has been an active member for many years, but recently she has been an outstanding asset. Through the Rockford AAUW STEM Scholarship Committee, she helped the local branch excel in meeting and exceeding their goals for scholarships to local high school senior females who are going on to college/university to study in a STEM career field. First, Sheryl created a mailing to members inviting them to donate to the scholarship and included the opportunity for the member to dedicate the donations in honor of or memory of a friend/relative which was then listed in the annual directory. Second, Sheryl secured an anonymous donor who set a Goal Challenge for the fundraising event which created great excitement for the AAUW members and their friends. Sheryl's ideas and leadership tripled the amount generally donated to the scholarship awards, so that in 2018 four $1000 awards will be offered.
As a result of Sheryl's outreach, the Rockford Area AAUW Branch engaged with K-Fact to help young girls who truly needed resources since their families did not or could not support their daughter's dreams of finishing high school and college. Many of the girls involved in K-Fact live in homeless shelters and some already have children. During the year, the Rockford Area AAUW Branch gathers the items needed for a student to attend higher learning, such as bedding, dishes, and other items needed to supply a dorm room.
However, the activity that is bringing real attention to the Rockford Area AAUW Branch, and which is Sheryl's biggest undertaking, is the fundraising for a $7 million museum and educational center which will also host girls' baseball games at the famed Beyer Stadium, home of the Rockford Peaches. This project is the International Women's Baseball Center. The educational center hopes to form programs to help children learn through sports, for example, using math in scorekeeping and learning about management funding. The IWBC will be partnering with and recognizing AAUW Rockford Area Branch and several other local organizations as this project moves forward.
CONGRATULATIONS SHERYL!