The 2017 Agent of Change – Carol Heisler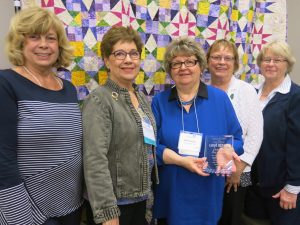 (L-R): Crystal Lake members Linda Riggs, Marlene Boncosky, Carol Heisler, Sandy Moser, Meredith Reid Sarkees join Carol to celebrate her Agent of Change award.
Carol Heisler is the recipient of the 2017 AAUW-IL, Inc. Agent of Change Award! Carol epitomizes an active, involved, and dedicated AAUW member. She energetically promotes engagement with AAUW at the local, state, and national levels. She has inspired members to anticipate and adapt to change with action that strengthens the AAUW mission.
Carol joined the Crystal Lake Area Branch in 1993 and has served as president, public policy chair, and secretary. She initiated "Reel Life", the branch film series that focuses on women, and led a branch partnership with the Crystal Lake Library. Four times a year, for the past two years, the ensuing "Reel Life for Real Women" has educated branch and community members about women and issues that are important to them. Carol consistently works to provide AAUW mission-based programs and research to her branch. She brings enthusiasm and creative ideas to any branch project she tackles. As a bank trust officer, she has also offered her professional expertise about tax law for the branch's non-profit status and fund raising events.
Carol has served on the State Board as a district director, director of international affairs, nominating committee chair, and membership co-vice president. She has just recently completed her term as president. Her focus as State Board President was ensuring that AAUW-IL is a vital, fiscally conscious, and enduring organization. With membership down and branches disbanding, Carol facilitated discussion with board members about investing some of the state's money in its branches. She was instrumental in designing the TRIO Stipend that has enabled numerous members to attend State and National Conventions. She initiated the Local Engagement Grant that provides funds for branch mission-based programs/events. She reinvigorated The Gender Equity Fund, formed in 1997, to continue the work of achieving equal opportunities for women and girls. As a result, a GEF Speaker's Bureau has presented AAUW's research to branches and communities across the state. To encourage branch boards to evaluate their "mission driven" purpose, she helped streamline the branch recognition process, BEST AWARD, to encompass all programs. Her strong fiscal management skills (capping investment earnings at a carefully monitored percentage and encouraging donations for GEF programs)  have contributed sound practice to the State Board's  funding of branch grants and member stipends. Carol has been an enthusiastic advocate for AAUW's National events and priorities, including public policy initiatives and the National Student Conference. She has actively supported the National Convention, attending herself, and, via the TRIO Stipend, made it possible for others to attend.
Whether collaborating with other community organizations to promote her branch's programs/events, distributing Pay Day candy bars to commuters to highlight Pay Equity Day, advocating for the first Jane Addams Day in Illinois, or making thirty teal scarves for AAUW attendees at the Women's March in Chicago, Carol has brought visibility to AAUW. She initiated the Local Engagement Grant and suggested continuing the work of the Gender Equity Fund, both opportunities for branches to provide mission-based programs in their own communities and bring AAUW's mission and research to a broader audience. The TRIO Stipend, also initiated by Carol, may well serve to inspire AAUW's future leaders who will make AAUW vital and visible in the years to come.
Carol is an outstanding AAUW member! Her vision, initiatives, inclusive leadership, and action have strengthened AAUW's mission and promoted positive change in society. As president, Carol and the State Board provided a blueprint for the success of AAUW-IL branches. She would be the first to report that the accomplishments made during her term were the result of the input, cooperative spirit, hard work, and action of "the greatest AAUW-IL board EVER". Carol has a talent for making members feel valued and appreciated. She has inspired them to believe vision with action can change the world! With respect and admiration, AAUW-IL is very pleased to recognize Carol Heisler as the 2017 Agent of Change.
The History of the Award
The Agent of Change Award was instituted in 1984 by the Board of Directors of the then Illinois State Division, now AAUW-IL, Inc. This prestigious award is to be presented annually to a branch member or AAUW member who has served as a catalyst to bring about positive societal change and visibility to AAUW. The five District Directors are charged with selecting the Awardee from nominations submitted by AAUW-IL branches.
All efforts that relate to AAUW's missions will be considered, with special emphasis placed on activities that relate to current AAUW priorities and initiatives. For example, individuals who have actively promoted change in the areas of education, equity, advocacy, philanthropy, and /or public policy and brought visibility to AAUW should be among those considered as nominees for this prestigious award.
This year eight outstanding members were nominated. (Please keep in mind branches may resubmit previously nominated individuals in the future.) The directors of the five Illinois districts chose to honor Carol Heisler with the award, and wish to thank Meredith Reid Sarkees of the Crystal Lake Area Branch for nominating her. Carol was named the 2017 Agent of Change at the State Convention on May 6 in Champaign.